.
The cost of textile ducting - Why and how much cheaper is textile ducting than traditional metal ducting?
Our textile air duct systems have numerous advantages over traditional air duct systems and one of the many advantages that cannot be neglected is the competitive price, which is at least 30-40% cheaper than traditional metal air duct systems. Basically, the cost of a textile duct project can be broken down into four main life cycle costs. One is the cost of the product itself, i.e. the cost of manufacturing the textile duct, the second is the cost of transporting it from our factory to the point of use, the third is the cost of installation itself and the fourth non-negligible cost is maintenance.
When looking at the total cost of installation and value for money, the textile duct is a win-win situation for the investor, the contractor and ultimately the maintenance company. Let us look at the reasons why this is so.
.
Cost of textile ductwork
Textile air ducts are, as the name suggests, made of industrial textile woven from PES. They can be made of standard, CLASS 1, CLASS 0, antibacterial and antistatic materials. This depends on the customer's requirements.
The cost of purchasing and processing these materials is now more affordable at current global metal and electricity prices.
In addition, there is no need to insulate, the cost and time of which adds significantly to the cost of a project, and the maintenance is significantly simpler, easier and cheaper, which we can also provide.
In addition to the simplicity of a small number of elements, textile duct systems can also be fitted with elbows, T-ties, reducers, just like a classic metal air handling system. No big difference.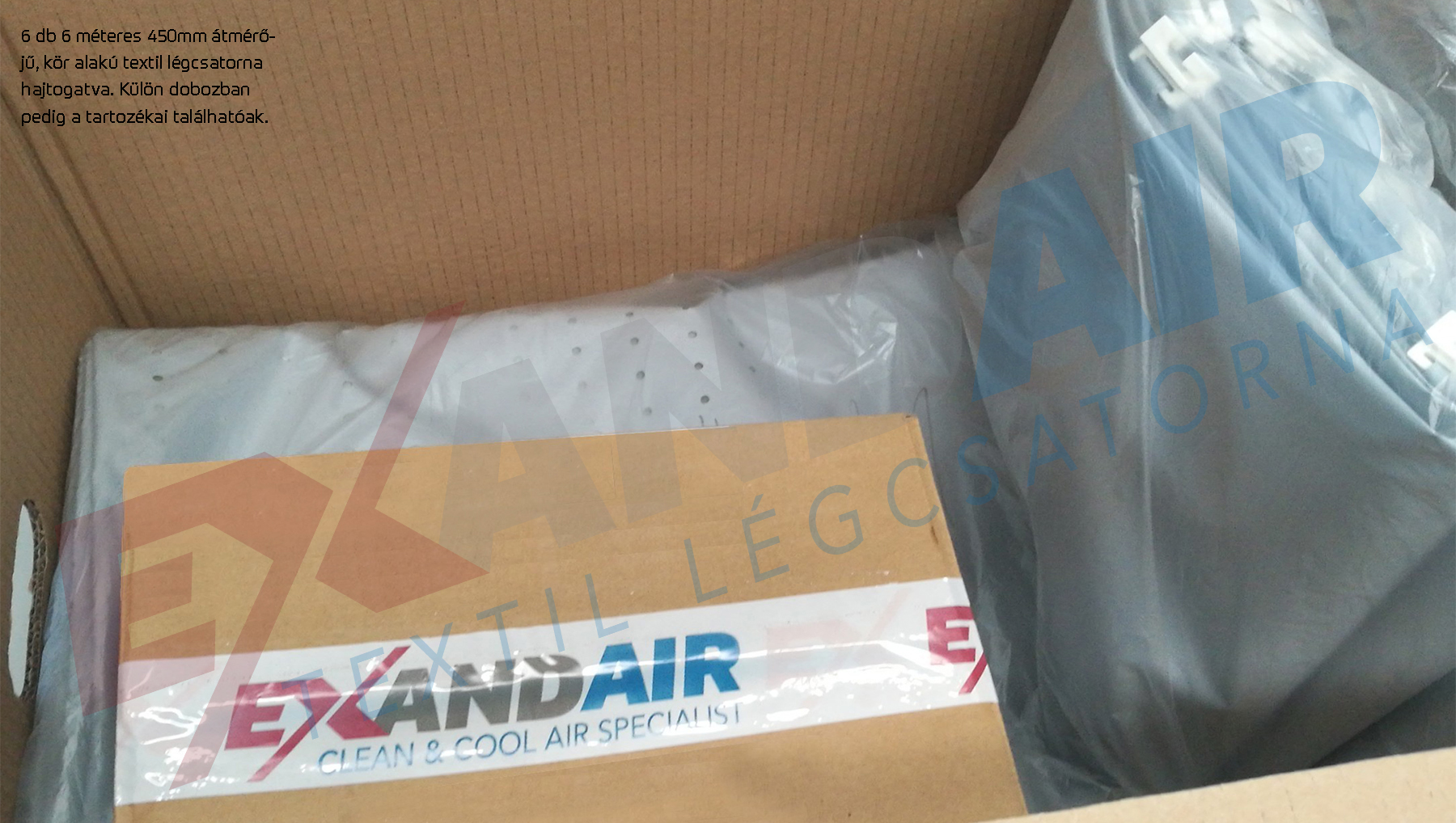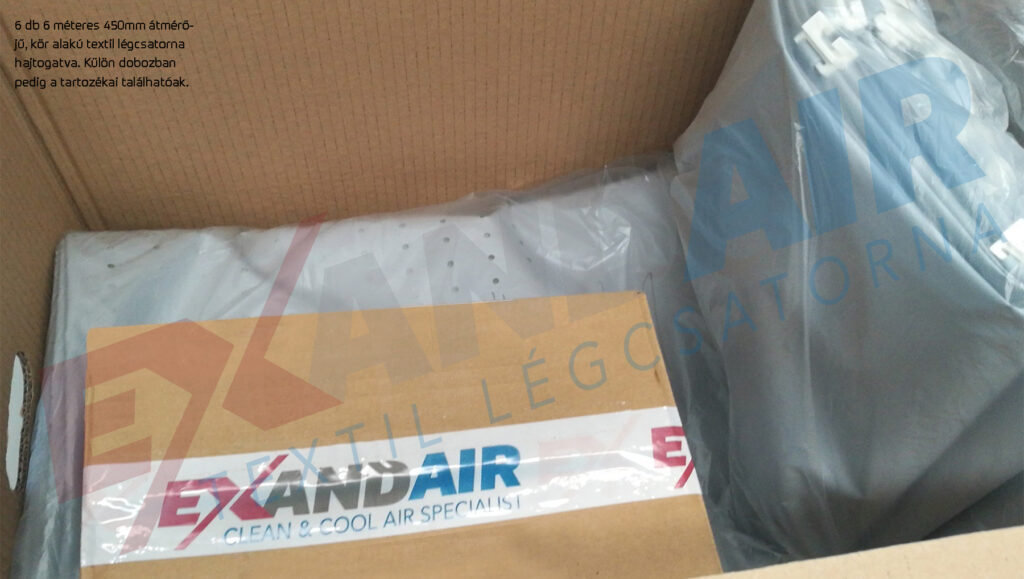 .
Transport properties of the textile duct
A metal air duct system (duct and support structure) cannot be folded, which requires a larger truck and, due to its weight, usually requires several people to logistically load and unload it on the job site.
Textile ducting can be received at our factory or delivered to your site in a box. Suspension strands can also be taken away in a box as compared to galvanized steel mounting rail systems. If someone requires an aluminium stay rail, we can supply 2-3m lengths which can be easily transported in the boot of a car or on the roof, to take away.
So you can see that the cost of a bigger truck, a lorry, is competing with the cost of a station wagon, and then there is the extra manpower needed to load it.
.
The simple installation of textile air technology is unbeatable
In addition to cost savings, this system has huge advantages.
In addition to being a fraction of the installation time of a metal system, 75% of that fraction of time is spent installing the drift or self-rail system that we, as an EXANDAIR textile duct manufacturer, can take over at our factory at the start of construction. The suspension does not require experienced air handling technicians. A more technically skilled person can easily cope with it. After all, putting up the duct is as much energy as pulling a curtain into a curtain rail.
In summary, this system saves both installation time and labour costs for the contractor.
.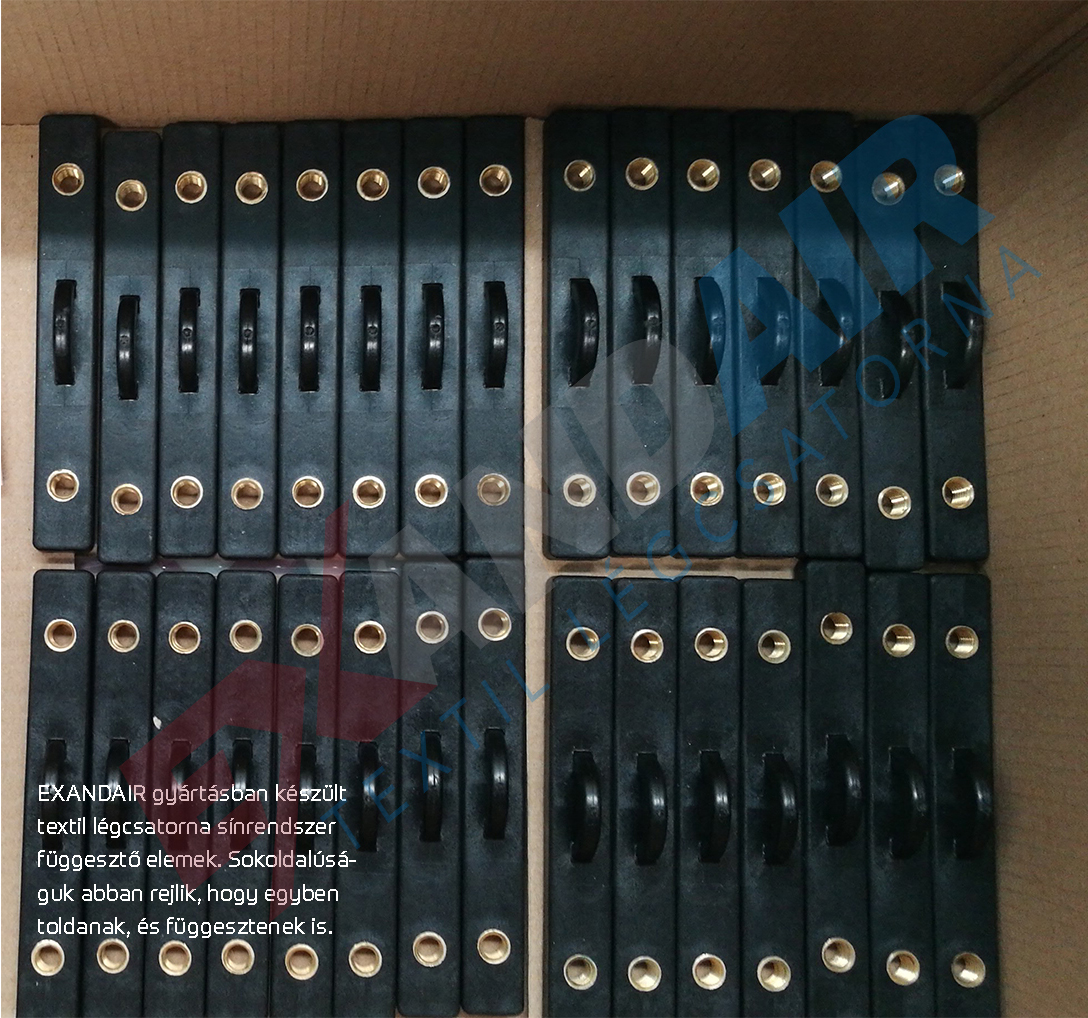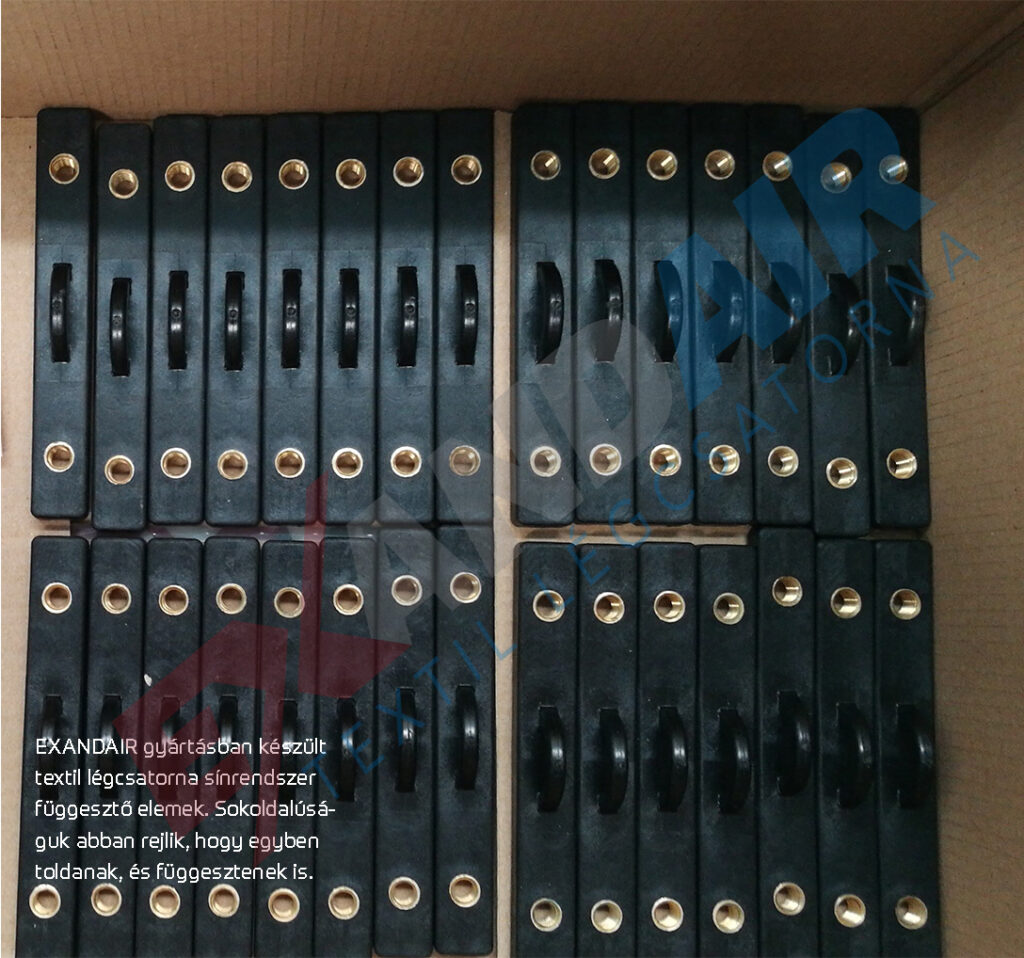 Low maintenance costs
Maintaining quality working environments is regulated by regulations, so cleaning and maintaining air handling systems is part of a good working environment, for defect-free production. As the textile air duct is easy to dismantle and can be washed in an industrial machine according to regulations, maintenance and cleaning is very simple indeed. For this reason, too, textile air ducts can be more efficient and economical in the long term than metal air duct systems, which are difficult and extremely expensive to maintain due to the technology.
Moreover, the end result will not be of the same quality as the textile. At EXANDAIR, we also provide a dismantling and installation service. Temporary replacement ducting can be provided for cleaning, depending on size and quantity. Our maintenance also includes repairs up to 10% of the length of the ductwork, and we can even provide replacement ductwork for the duration of the cleaning or even a conversion if required. This can also extend the warranty to 10 years.
Overall, for the above reasons, the investment and construction costs of EXANDAIR textile duct systems compared to conventional systems are min. 30-40% cheaper compared to conventional systems, not to mention when a conventional metal system has to be insulated. It can therefore be seen that the price of textile ducting is more favourable in all respects.
.
Take a look at our case studies to learn more about the benefits of textile ducting systems, their many applications and contact us. Follow us on our Facebook page for instant updates.