Textile air ducts are well-known to have a number of benefits compared to "conventional" spiral or rectangular ducts. But are they worth installing? In which industry do we get the most benefit? What other benefits does it offer against other air-conditioning systems? Let us discuss them all below.
1. Textile duct: the king of hygiene in the food industry
If you work in the food industry, hygiene is always of central importance. To this end, it is vital to know that galvanized air duct systems do not provide 100% protection against bacteria and infections.
What can we do then?
Textile ducts are the perfect solution, because they are available with special antibacterial coat which can be installed even in class ISO8 clean room. As a result, there is no better solution available in the food industry! Moreover, the system is completely draught-free.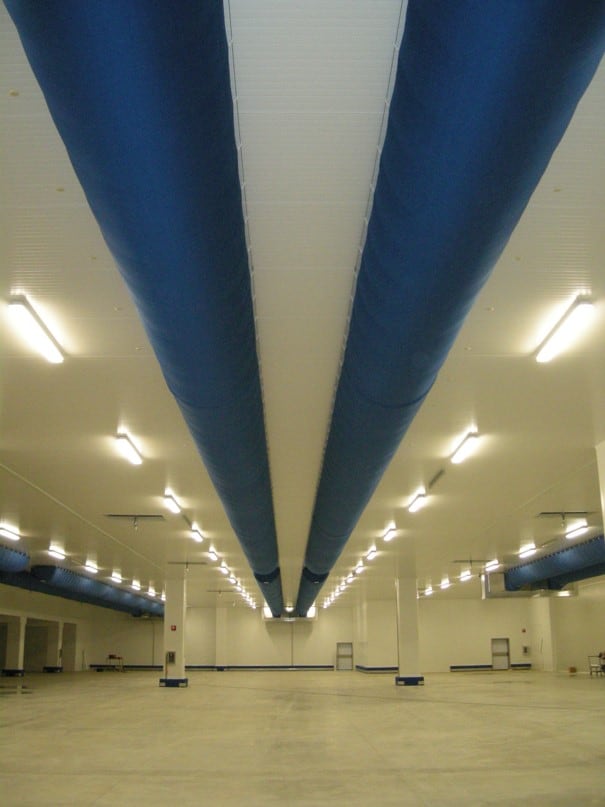 It has a very smooth finish, and thanks to the special coating pollutions does not adhere to and accumulate on the surface as easily as on finishes made of different material.  Hence, all the materials used to make up textile ducts are 100% food industry-compliant.
2. The King of Zone Cooling in Department Stores and Warehouses
Halls with large headroom can benefits from air distribution systems, where air flows and passes by a number of holes or nozzles, as provided by the textile duct. In practice, textile ducts have been witnessed to delivery much better air supply in supermarkets than other materials. What's more, at a more affordable price.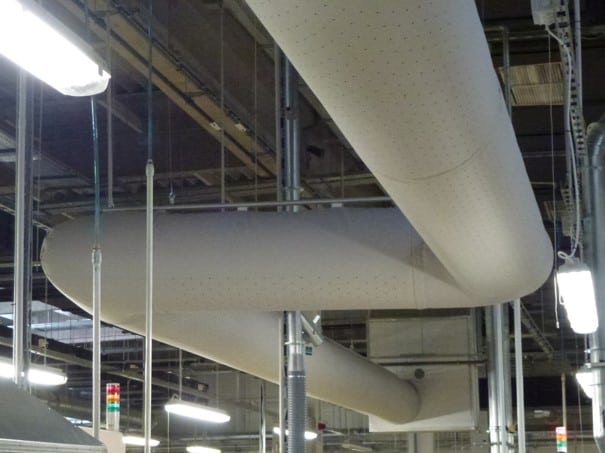 Another system advantage is zone cooling,which is very efficient and cost-saving HVAC solution in department stores, because you need to heat or cool wherever it is necessary. Besides its numerous product benefits, textile ducts must have disadvantages, too, for example, the fabric is flammable. The good news is there is nothing to worry about fire prevention, because the fire protection class of textiles comply with the strictest international standard requirements. What does it mean exactly? Textile ducts belong to these : Euroclass A1 (non-combustible) or B (s1-d0 – melts, but no contribution to fire).
Textile Ducts: They Look Nice…
Now we have learned that textile ducts provide perfect air distribution in department stores as well as clean areas. But what else has it to offer?
The answer is simple: textile ducts look nice! Besides high performance, such systems must also make consumers feel comfortable. You must have seen ugly, depressing air ducts in department stores or large shops. These are places where you stay longer than absolutely necessary, and you may not want to return, especially if there are more attractive alternatives.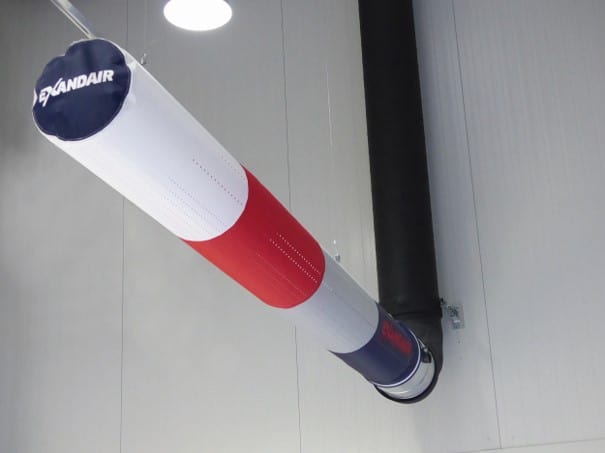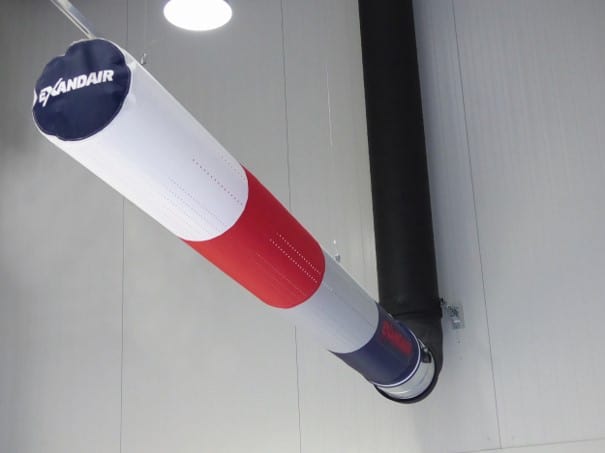 Textile ducts are available in a wide range of colours and shape. Moreover, colours can be varied and customized to match your store's identity. A good chance to get rid of boring, depressing, industrial-like appearance once and for all! You can create a funny environment, which matches your company's identity perfectly and exhibits an attractive look for employees as well as customers.
3. A vanguard in draught-free applications in low-temperature workplaces
Textile ducts installed in large warehouses provides even air distribution to , stabilize and maintain temperature. Draught may be very harmful to human health if the work is performed in a low-temperature environment. Company managers receive plenty of complaints from workers and must manage lost labour time and expenses. This is when textile ducts may be the right solution, because microperforation warrants 100% draught-free environment and cannot be shut. In addition, in the design phase air flow direction and rate can be customized to the special needs at every duct section.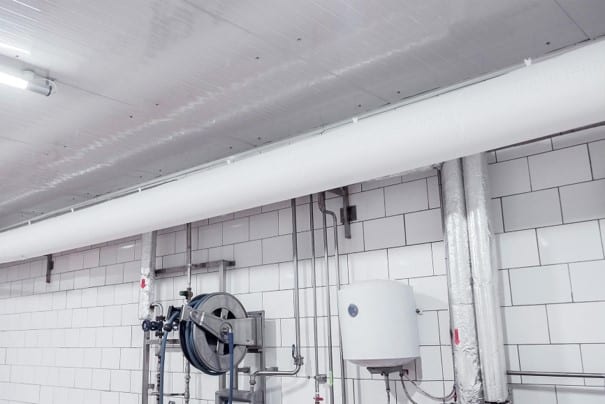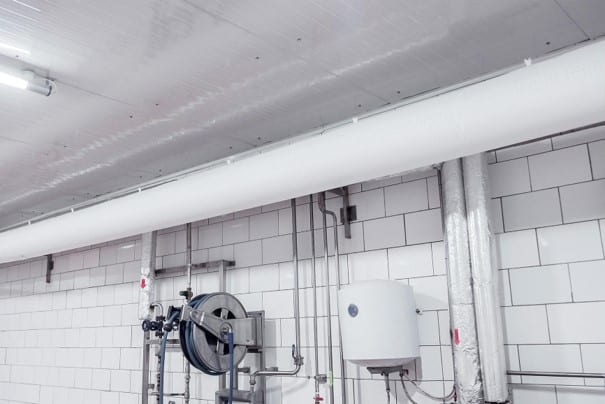 Textile ducts disperse air evenly, without any air motion perceived. It help to supply fresh air to employees at any time, because textile ducts are great for heating, cooling, or ventilation. Thanks to draught-free environment, the number of days on sick-leave will also reduce, and there is less chance for draught-related diseases such as cold and pain in the joints to develop. As a result, the number of days on sick-leave will decrease substantially. Draught-free working environment therefore indirectly improves work atmosphere and directly reduces lost time to improve productivity as well as increase sales.
Did you know?

4. Specialized to unique needs in the electronical, automotive, and food industry
4. Specialized to unique needs in the electronical, automotive, and food industry
Conventional air systems can be very expensive in new plants. However, in case of reconstruction in existing facilities, textile duct systems can save extra time. Moreover, in comparison with conventional systems textile ducts put much less load on the roof. Conventional sheet ducts need insulation, metal is heavy, and it is more difficult to provide optimum air dispersion and draught-free environment.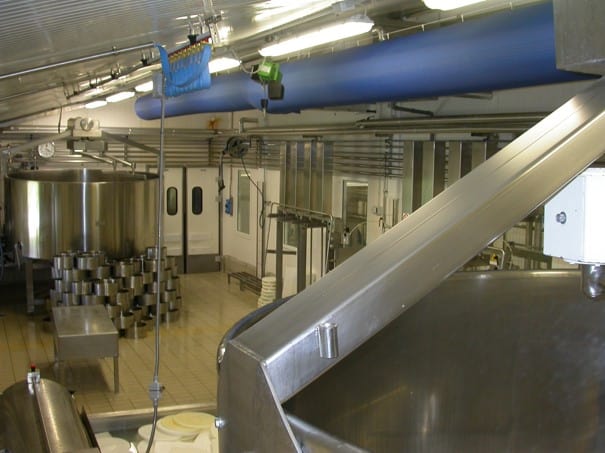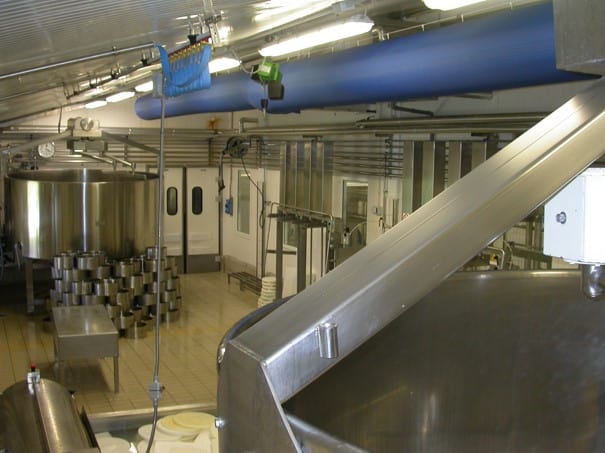 The use of textile duct, however, is the perfect solution in the electronics, automotive, and food industry, because it provided draught-free air dispersion at low structure mass and expenses. What's more, a number of suspension alternatives are available considering the load-bearing capacity and design of the ceiling and other installation criteria in the plant.
5. Textile duct: the hero of controlled air dispersion in sports halls
Textile air ducts are common in various sport facilities, because it provides a wide range of controlled air dispersion. Moreover, when cooled air rate is set to minimum speed, visitors in fitness centres will find it comfortable.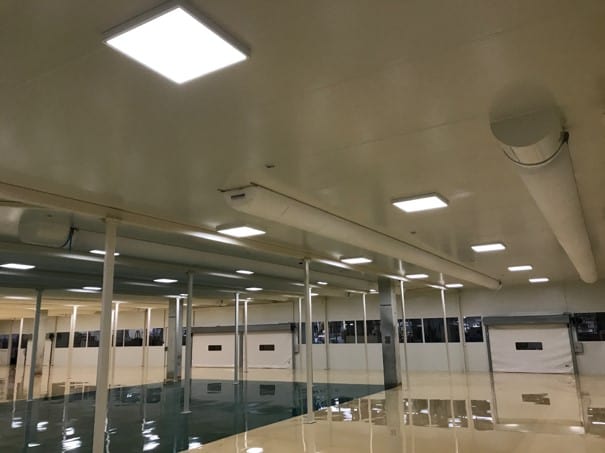 Semi-circular textile ducts will do the job, when ventilation is needed in rooms with small headspace. Semi-circular textile ducts can be installed on existing suspended ceiling. If you need air vent system above swimming pools, there is no real alternative for textile ducts, because the fabric and suspending structure completely resist the adverse effect on humid environment. In other words, no more corrosion! Combine different colours to revitalize the interior and create the desired atmosphere. Air technology is therefore fully adapted to your company's identity.
6. Health expert in kitchens and laboratories
Moisture and vapour levels in kitchens and laboratories are very high, and therefore very intensive exhaust is required. Although moisture is usually exhausted from kitchens in the catering industry, but they often fail to provide air supply and a draught-free solution. Textile duct in laboratories and kitchens in the catering industry disperses air evenly without draught. Duct materials resist steam and are much faster and easier to clean when contaminated.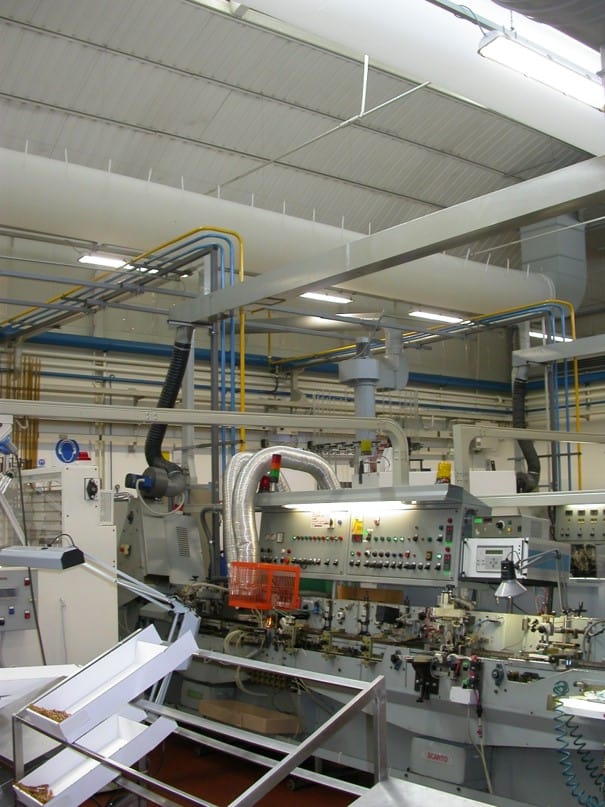 No matter what systems they are compared to, textile ducts are more effective in complying with all health requirements, because they are not only draught-free but also much easier to clean. When you look at the price tag, you will be happy to see the are much cheaper than stainless steel ducts.
7. The champion of aesthetic solutions in offices, restaurants, and cinemas
Since textile ducts are available in many colours and three shapes, they will surely match your company's identity in offices, restaurants, and cinemas. Manufactured with care and precision, these ducts in the right colour and shape will contribute to the elegance of your interior. Moreover, custom prints and logos are available to strengthen your company's PR.
When it comes to cold air, people sitting close to conventional air supply inlets often complain. Semi- or quarter-circle textile ducts considering interior design issues are there to resolve this problem, because they can provide you with draught-free fresh air at the required temperature right next to you. Moreover, fabric is great at reducing flow noises, so noiseless operation is guaranteed. People working in draught-free and quiet offices are much more content.
+1: Textile duct: a quick help for provisional installations
When it comes to heat or cool large tents or temporary structures, textile ducts offer unbeatable benefits.
First, light roof structures can carry such system with ease, because they weigh between as low as 200 and 500 g/m². Furthermore, it can be assembled quickly with the loops and clamps sawn on the ducts. If maintained and used properly, the high-quality fabric lasts minimum for 10 years. So it is ready for later use at any time.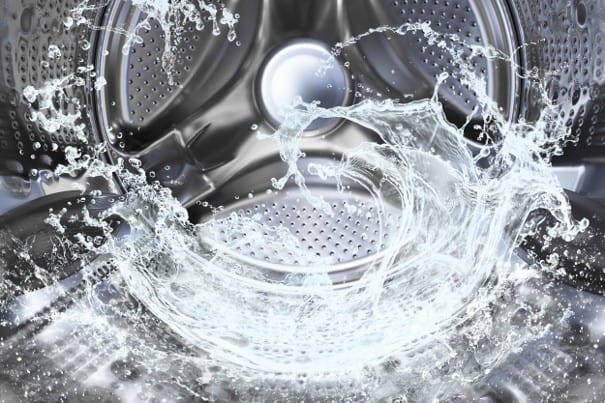 In addition, textile duct systems are more economical to use than other solutions, because no insulation, anemostat, and complex holding structure is required, which help to optimize investment cost as well as implementation time.
Textile duct is the absolute winner in industrial air-conditioning
Whether a restaurant, factory or a sports hall, textile duct is the perfect choice if you need outstanding value for money, efficiency, maximum comfort, and aesthetic appearance. It is vital, however, to hire only professional specialists experienced in engineering, manufacturing, and installing air duct systems.
Fortunately, you can also find a company, whose software (developed together with The Technical University of Budapest) can provide you with a bespoke solution, delivered by production and maintenance services from Hungary. You can be sure that your system will function perfectly at the highest achievable efficiency.