Factory "air conditioning" with textile ducting, or zone cooling One of the great challenges of our time is to properly design our built environment, taking into account the increasingly extreme weather conditions. One of the key elements in this is air conditioning, one of the most efficient types of which is zone cooling.
When installing production plants, adequate, efficient and inexpensive air conditioning is a cardinal point, because not only the technology, but also the people working with it must be provided with a working environment that complies with current regulations, thus saving costly extra working breaks.
Our group is regularly approached with such and similar tasks, because in addition to the mechanical solution, we can also solve the related power and automation control tasks in one go.
Thanks to many years of experience in air conditioning industrial production lines, we have a well-proven and perfectly working, yet cost-effective solution, zone cooling, one of the pillars of which is the textile duct system (or as others call it and more commonly known as sock tube, bag air conditioning, etc.).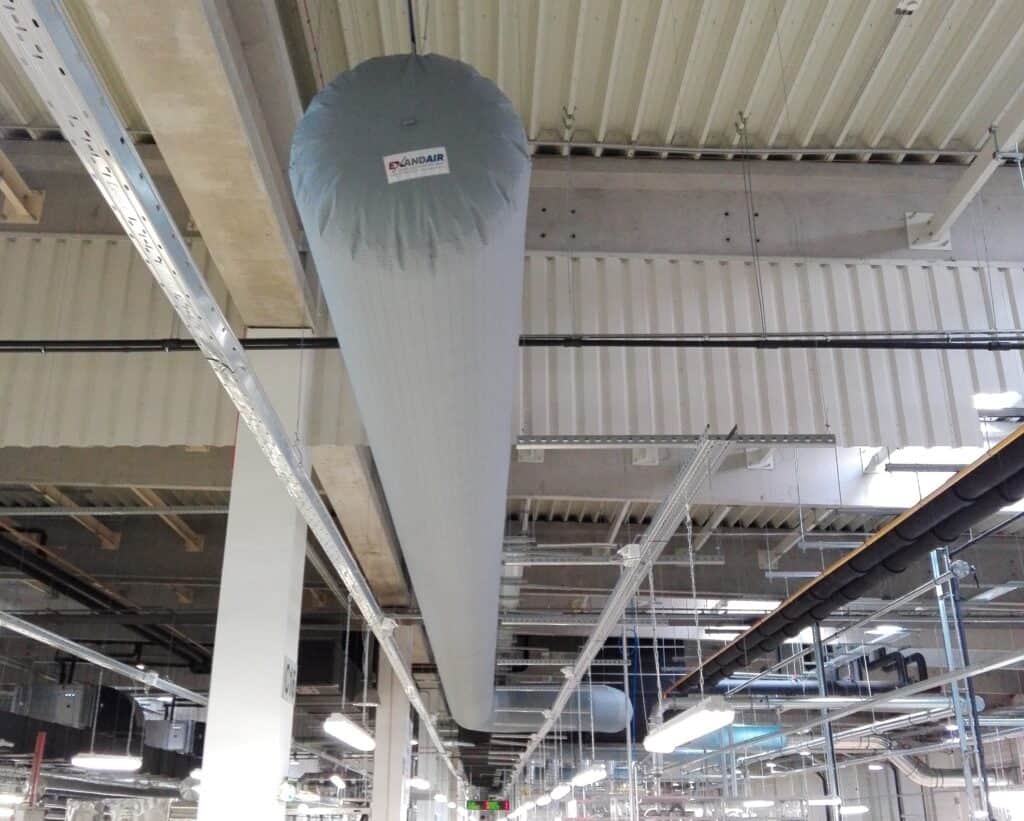 Textile ducted cooling or "zone cooling" is the main essence:
We only cool where people are working, thus significantly reducing the area we have to cool, which means significant cost savings.
Air is blown through the textile air duct at a temperature and air velocity that ensures the comfort of the workers and makes it easy to comply with the Joint Decree 3/2002 (II. 8.) of the Ministry of Health and Safety at Work, which regulates the minimum level of occupational safety requirements for workplaces.
The workers cannot control the system because it is a pre-scaled and unstoppable system. Our experience was that the traditional anemostatic injection was changed at will, which could even cause the cooling-heating to fail, leading to complaints from the following shifts.
It is very quick to install compared to traditional spiral (SPIKO pipe) corked air technology because of its lightweight suspension and weight, and quick to install because

may be a rail on a suspended steel platform, into which the textile duct is pulled, or
a stretched steel floor on which the textile air duct is hung,
none of them require extra insulation.

It can be connected to most air handling units with a little care, so

for industrial fancoil,
to the air handler,
for ducted air conditioning,
or to the existing spiral corked circle or square air network.

Not only can you cover straight rows with the textile air duct, you can also cover L-, Z- or U-shaped rows with elbows.
It is easy to clean, thus avoiding infections.
They can also be used in freshwater fields.
In addition to the Standard, we can also manufacture in CLASS1 and CLASS0 fire resistance classes.
One of the special features of our own textile air duct system is that it can be placed in a dustier plant, because the dust and oil mist does not cause any performance loss due to the deposition of contaminants on the outer surface.
Thanks to its developments, it moves the airflow in the immediate vicinity of its surface in such a way that condensation and perfect mixing take place as efficiently as possible in the room or zone.
We are pleased to see that several Japanese manufacturing plants have also applied our solution for air conditioning in their production lines, and they have also confirmed with the greatest satisfaction that the air velocity and temperature of the blown air in the case of zone cooling also perfectly meet the requirements of the joint decree 3/2002 (II. 8.) SzCsM-EüM.
For a precise technical solution, please ask our colleagues for advice and we will help you with the complete system design and even implementation.