Many people are not yet aware of the potential of textile air ducts and how good an alternative they can be to the classic metal air duct system.
Design
The variability of textile duct systems is very diverse, because they are expensive to install with elbows, reducers, T-joints and much shorter installation times than metal systems. The transport, storage and maintenance of textile systems is very simple, so no extra equipment or large vehicles are needed.
This also makes logistics easy. But to really get things running smoothly, the focus needs to be on planning
.
.
The role of design.
First, it is very important to make clear that no two systems are the same.
Every space and room has different basic conditions,
locations with different production lines have different needs, as do
depending on the function of the buildings, different textile duct systems may be required.
It is clear that a sports facility or warehouse has completely different needs than a clearance area. The first step in planning is therefore to carry out a professional survey and provide accurate data.
.
EXANDAIR survey logbook
To assess the current needs, we always send a survey log to our customers, which we use to request various parameters and information. This allows us to get an accurate picture of the space, its function and our clients' needs. The survey log also includes information such as
air volume,
air volume,
length,
height,
temperatures,
material quality,
form,
direction of inflow,
Not exhaustive
.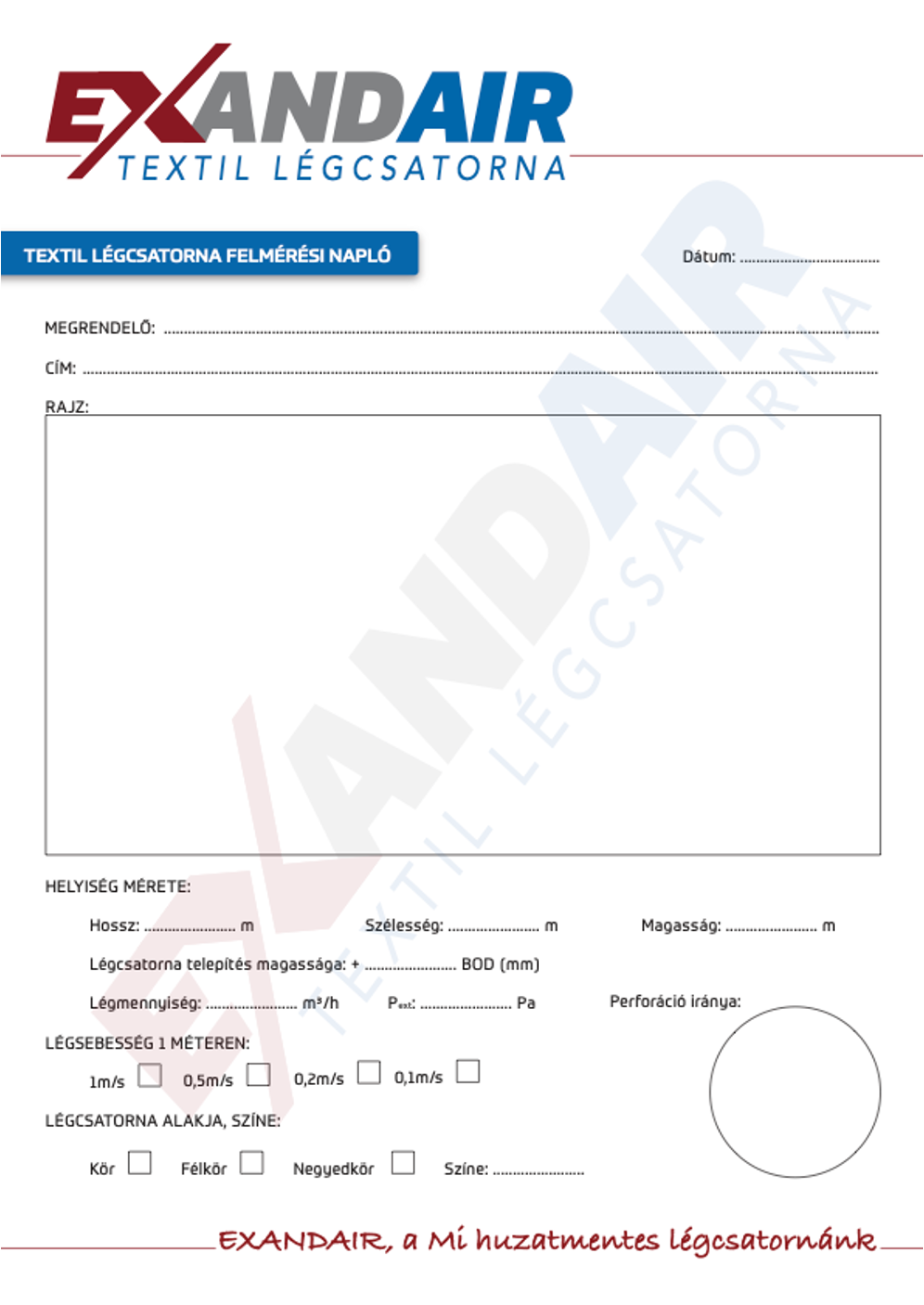 Specific design steps
Once we have received the completed survey logbook back from our customers, we start the calculation and simulation final check with our proprietary, purpose-built software, paying particular attention to the air discharge along the length and the air velocities required by the relevant regulations, standards or customer. lThe aim is to achieve a working environment that is as uniform as possible, i.e. free of draughts. lWe can naturally also discharge air from a height at high speeds efficiently in a high warehouse. But this also shows how different needs can be met by a well sized textile duct system.
After the software design, we create a flow diagram that is sent to both the design colleague and the client for checking. At this stage, it is still possible to make modifications or to specify additional requirements. After final approval, the production of the textile ducting system can start.
.
The EXANDAIR air duct systems
As an expert in innovative air technology, EXANDAIR is constantly developing new solutions at its R&D centre in collaboration with the Budapest University of Technology.
Take a look at our case studies to learn more about the benefits of textile ducting systems, their many applications and contact us. Follow us on our Facebook page for instant updates. 
---