Even if you know exactly what kind of textile ducting system you need, read the following to save yourself time when ordering. But if you're not sure what's best for you, scroll down and return to the beginning of this article.
.
How to buy
So to make sure that we produce the best textile air duct system for you and your company's working environment, you need to know the following process.
When you contact us, we will first send you a survey log. This is important because you can enter your exact requirements and parameters here, and we will then be able to provide you with a fair quotation.
Once you have returned the survey logbook, we will make a preliminary estimate, from which we will prepare a quotation including all technical, commercial and delivery conditions.
If you like our quotation, you approve it and you can order the product.
This is where we start the design process, one of the steps of which is to give you a flow diagram. This will show you how we have tailored the textile duct, what perforations we have designed, i.e. how we ensure the right airflow and draught-free environment for you.
Once you approve this flow diagram, production can begin.
We work to strict manufacturing processes and specifications, so all our textile ducting goes through a separate quality control process. This ensures that you get what you ordered.
We will then pack and prepare the system for delivery and, on request, deliver the system.Of course, you can also pick it up in person, just let us know during the cooperation.
.
So here's how the shopping process works, but to make sure you don't get stuck at the first point, you need to be aware of the following.
.
So order an EXANDAIR textile air duct!
Az EXANDAIR textil légcsatorna rendszerei azért jó megoldás, mert 
the air distribution is completely draught-free;
with textile elbows and bindings, a complete system can be created.
aesthetically pleasing, blending into any environment.
very simple and easy to clean, with a 10-year guarantee.
allows faster and easier installation than metal duct systems.
as a local Hungarian manufacturer, we can supply the support structure immediately after ordering, so your schedule is not compromised
up to 40% cheaper than a classic metal duct system
we can test your channel in our lab on request.
.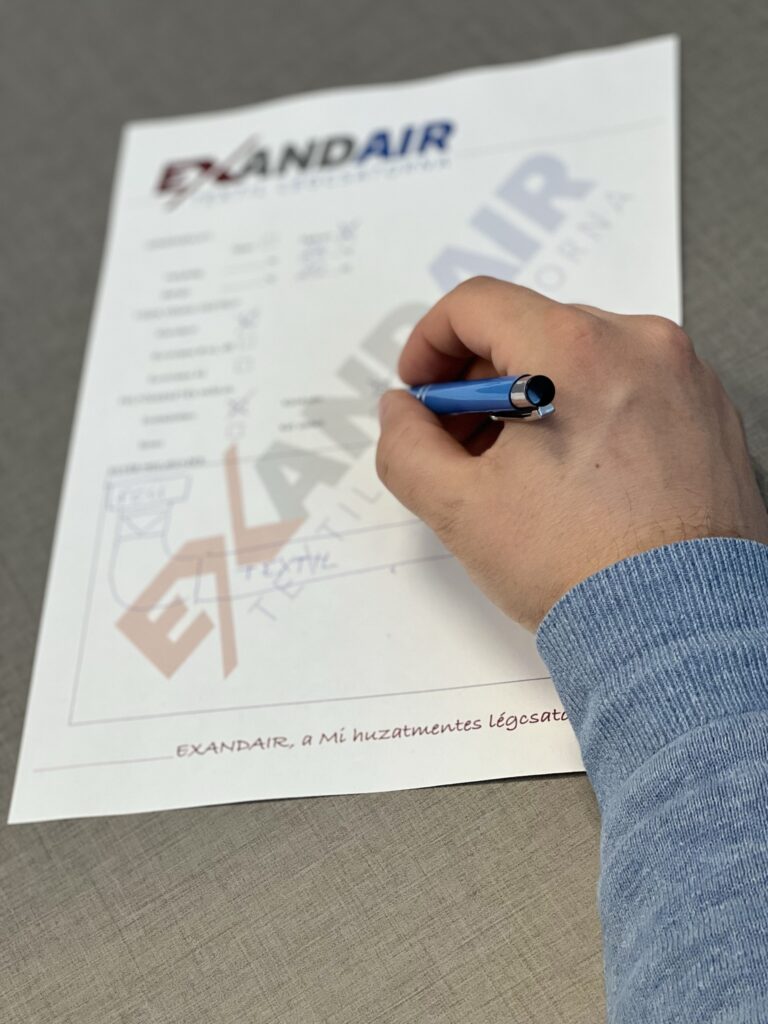 The applications for textile air ducting are diverse - from offices to larger air spaces. Even in industrial environments where there may be a higher dust load due to the technology. For example, it is ideal for cooling batches on production lines, as it allows low air velocities, more efficient air distribution and easy compliance with health and safety regulations.
.
What to look out for when ordering?
When specifying the parameters, we are primarily interested in the size of the rooms for which you are purchasing the textile ductwork and the properties of the underlying air handling systems (e.g. air handler, fan-coil, ducted air conditioning, fan, existing ductwork). The selection of the right diameter, height and perforation is essential for the proper functioning of textile air ducts. Our design guide will help you with this, among other things. Our duct systems are flexible in terms of perforation size, direction and shape, diameter, installation height, not to mention colours, while maintaining certain technical parameters.
You will also need to clarify what the textile ductwork will be used for, i.e. cooling, heating or both, as well as how the systems will be transported and maintained professionally.
.
Transport of textile ducting systems
How the transport is carried out depends largely on the characteristics of the system chosen. For our rail-suspended ducts, the length of a profile is 3 metres and the fittings are packed in a separate box. The fittings fit in a 60×60×60 cm box, while the ducts are usually packed in 80X60X50 cm boxes. As mentioned above, our quotation includes delivery conditions, so we will provide you with an accurate itemised list of packing after ordering, before delivery. On request, we can also deliver to your premises.
If you have any further questions, we suggest you check out our help guides, where you'll find everything from a tutorial to a design guide.
Take a look at our case studies to learn more about the benefits of textile ducting systems, their many applications and contact us. Follow us on our Facebook page for instant updates. 
Remember! EXANDAIR systems are easier and quicker to clean than metal solutions, can be customised to meet individual needs, provide an aesthetic appearance and last but not least, are extremely cost-effective. We look forward to hearing from you.