Fresh air in office spaces and meeting rooms not only increases concentration, but is also necessary from a physiological point of view, not to mention the fact that a draught-free air supply is an essential condition for comfortable working conditions. Thanks to our ventilation innovations, a draught-free office can now be achieved effectively with textile air ducts or textile anemostats.
The importance of a fresh air supply for meeting rooms in the office environment has been discussed before. Poor air quality not only reduces the comfort of employees, but also increases the chances of the formation of condensation, mould and carbon dioxide.
We receive many enquiries where we are not talking specifically about an industrial environment, i.e. where the task is not to cool the production line, but to improve or rethink the existing air conditioning system in office buildings, for example.
As we have written before (here and here), in duct networks in office buildings, the problem of low ceiling height and the discomfort factor experienced by the employee sitting under the unit responsible for the air intake - more technically known as an anemostat - when feeling draughty is a frequent problem. Conventional metal anemostats, which can be fitted in suspended ceiling grids, can let in fresh air but often fail to provide draught-free conditions. Unfortunately, many places do not even consider why a continuous supply of fresh air is important, and are content to circulate, cool or heat the used air by installing a split air conditioner.
While in the past we could only offer the "semi-circular" version of the textile duct for offices, our developments and innovations have recently expanded the range of products we can offer for such and similar projects.
Now, under the EXANDAIR brand, we have been able to offer a range of solutions that can fit perfectly into a low-ceilinged or suspended ceiling grid office or meeting room, with minimal mess and noise.
Four-round textile air duct for fitting in the corner
Flattened semicircular textile duct for fixing to existing suspended ceiling
Textile anemostat, whose size will be identical with that of metal anemostats, to enable easy insertion in the place of the latter
We also offer a building services solution to customers who have an existing system but are not satisfied with the traditional metal anemostat solution, we can offer a textile version of the traditional anemostat.
Our company manufactures these in two sizes, 600*600 (the same size as 1 suspended ceiling grid) and 600*1200 (the same size as 2 suspended ceiling grids).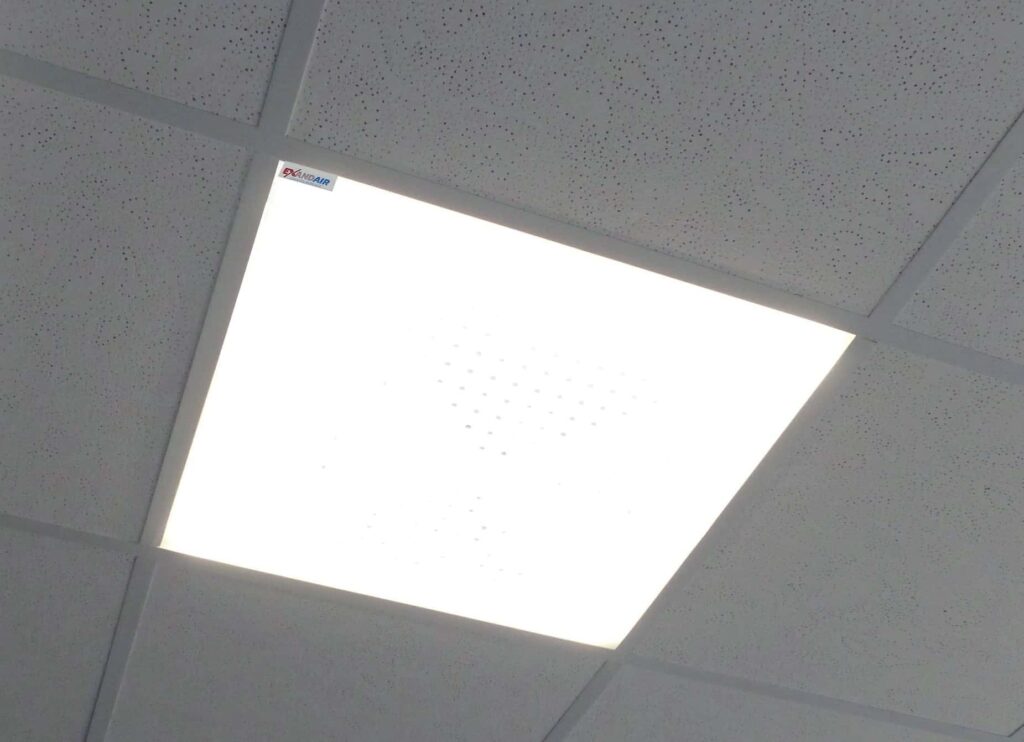 In the case of textile inserts, it is possible to manufacture them in several types of material, as there are many different requirements in an office environment. They can be produced in breathable material or in a pre-perforated version. The perforated version allows air to be directed within certain limits, so that there is no problem even if one side of the anemostat happens to be next to a wall. Our textile anemostats can be combined with our EXANDAIR LIGHT technology, i.e. we can also provide them with internal LED lighting on request, as shown in the picture.
Of course, we also recommend this system for new office buildings as a new, more optimal and draught-free alternative.